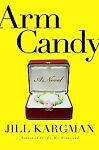 By Jill Kargman
May 2010
E.P Dutton
What's it about……
The book is set around a woman named Eden.
The novel starts with he moving from her small home town to the bright lights of the city of New York.
She starts out as a sales associate at a Tower Records close to her apartment.
While working there one day she meets an aspiring musician,
but their romance quickly fizzles, due to the fact that as he starts getting more exposure by the local media. Which in turn it means he has less time for Eden.
She then moves on to Wes who she meets in a little café near the iconic Bowery Bar.
The romance is seemingly perfect but Eden has a large if not a little cocky self awareness.
Though she loves Wes dearly she still feels like there is something missing in her life.
She is given the opportunity to capitalize on her looks to achieve her dream of riches and fame though
the painter Otto Clyde who can't take his eyes off of her.
At one point asks her if she would pose for him, which meant the beginning of the end for poor Wes.
After their breakup the novel fast forwards to 20 years later.
Eden is still with Otto, though not married and they have a son named Cole who just recently went off to college.
Her sons departure has forced her to realize the decisions she made all those years ago may not have been good ones. With no child to take care of anymore Eden begins to notice things that she purposefully pushed out of her mind. The biggest issues is Otto's wandering eye.
She catches Otto and his latest painting model in bed and decides right then and there enough is enough.
What I think…..
I found this book to be good, not exactly a best seller, but a great effort. It was engrossing enough to keep me reading .
The only thing I have a problem with was some of her language choices like played out phrases.
I really think many of them should have been omitted because they really tarnish what could have been an even better story.
It reminds me of how sometimes my mother would say stuff like "what do you think of my bling?"
Its kind of funny in a aww look how hard she's trying to be cool, but mostly its just annoying.
5/5