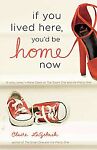 By Claire Lazebnik
September 2010
5 Spot
Rickie isn't your typical soccer mom by any stretch of the imagination.
She has short hair and eyebrow stud and a nose ring.
Unlike most of the fellow mothers that live in her ritzy town, she would rather wear a T-shirt and pair of ratty jeans then anything resembling Chanel.
When Rickie was nineteen she became pregnant with her college boyfriends baby, who even before he was born hit the road for a scholarship opportunity and never returned.
As someone who previously prided herself on being perfect, perfect grades, perfect attitude, she soon faced the reality that caring for a baby was not something she could do on her own. So, she dropped out of school and went back home to live with her parents.
Noah is now six and thanks to his grandparents money support goes to the best private school in the area.
He has been running into some trouble lately though being bullied by some of the bigger kids.
Noah early on was diagnosed with and autoimmune disease which in short means he can not eat anything with gluten in it. This causes him to be smaller for his age and therefore not as athletic as his peers.
After being called into the principals office to discuss a recent issue in gym class and a pep talk from her step sister Melanie, who is going through some issues of her own they decide to do something about it.
Melanie's idea, which Rickie under much duress agrees to, is to join the events committee at the school.
This way if her and a couple of the mothers get along then maybe their kids can make friends with Noah.
Its not easy being the youngest and the most, lets say, alternative of the group, but Rickie does her best to suffer through for the sake of her son.
I enjoyed this book very much.
It was not the typical chick lit I am used to that threw around brand names heavily.
I really could (though I do not have children) relate to Rickie's feeling of being the odd woman out.
Though she obviously does seem rough around the edges at the start you consistently see her grow throughout the novel.
Definitely worth the time.
4/5