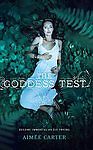 By Aimee Carter
Harlequin Teen
April 2011
5 out of 5
The Goddess Test is the debut novel for author Aimee Carter. For those who like Greek Mythology and/or a not cheesy love story, you will enjoy this book!
Kate's mother has cancer and despite all the doctors best efforts they have run out of options. So, to fulfill he mothers dieing wish the two of them move back to her home town of Eden. Kate almost immediately makes enemies with the schools reigning queen bee Ava and is tricked into going to a late night party. Unfortunately it is not a party and she is about to be stranded when she hears an awful sound. Just as Ava is about to hightail it she misjudges the distance and when diving into the water (the spot she brought kate to is surrounded by a lake) she cracks her head on a rock and dies even though Kate is able to get her out of the water. While Kate is sitting near Ava a man comes walking by with his dog, he says his name is Henry and asks Kate if she would do ANYTHING to bring Ava back. She says yes.
What ensues is a deal, Henry is actually Hades King of the Underworld and is searching for a Queen since he is sick of doing the job alone. It will not be an easy task however, she must pass seven tests.
There is a bit more too it then that but, if I tried to write it all it would leave you, lovely readers, more confused. This book is one of my Top 5 for 2011! It is not a lame romance, you pull for the both of them and admire Kate easily for her strength and courage. The story is well developed and when you reach the end I am sure you will gasp once or twice, just like me!