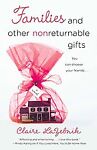 By Claire LaZebnik
September 2011
5 Spot
ISBN-10: 0446555029
ISBN-13: 978-0446555029
Buy It Now
Recently, I read Families and Other Non-Returnable Gifts by Claire LaZebnik The main character in this story is Keats a middle child in a family of "eccentrics" to put it mildly. She has been dating a man named Tom since she was fifteen and it's a pretty comfortable life; until recently.
Her parents have been divorced for quite awhile, but still live in the same house. Her mother has finally decided to put her foot down and told her ex husband that he has to leave. This decision begins a chain of many others that change life for most of the family members. When Keats dad moves from the house
her mom goes forward with selling it, which is easier said than done. Her mother is a hopeless pack rat, and her younger brother seems to have some kind of agoraphobia . Keats feels like she is the only one that can help them and not by choice as the prodigal daughter also known as the oldest is a world famous brain surgeon with very little time for her family.
On top of all this is her family's expectations for her, specifically her mother.
Her mother thinks it is bad that she has been dating the same man for so many years.
Having only had one boyfriend her mother thinks that she has settled two soon and should instead break up with him and see more of the world specifically other men. Her mother also doesn't like that she has not reached what she feels is her daughters career potential either.
For a few years now Keats has had the job of office manager at the local community college.
She likes the people and enjoys the job so she doesn't feel she needs to change it.
I enjoyed this book a lot.
Keats is faced with many challenges and has changes that she must power through.
It will change the world as she sees it and she will have to let go of the life she once had in order to grow as a person. It is something we all must go through, but is necessary for anybody to grow. As with the first book I read from her,
If You Lived Here You Would Be Home By Now
,
Claire has painted the very realistic picture of family that all readers can relate to. Whether this is your first novel by her or not,
I suggest when you have the extra cash to pick it up.
4 out of 5