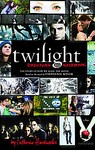 By Catherine Hardwicke
March 2009
Little Brown Young for Readers
ISBN-10: 0316070521
ISBN-13: 978-0316070522
The other day I was waiting for my computer to get fixed and stopped in the library while I waited for the phone call to return to bring the computer back home. I had brought a book with me, but was somewhat hyper. So I decided to browse the shelves for anything new. I found myself in the nonfiction section looking through the choices for books about writing. Sadly, there was barely half a shelf. (that is another post in itself) What did catch my eye though, on the shelf nearby, was a book about Twilight.
This was a book about it I had not seen before, it was called the
Twilight: Directors Notebook
. It was actually pretty cool, more of a picture book with scribbles following the different parts of the first movie.This included scouting sets before the movie started filming, the different wardrobe choices for all the characters as well as the selection of the actors.
For the next hour I decided to sit down and read through the book. I got about three quarters of the way before my phone call came, but it definitely was a great way to pass the time. I strongly suggest that if you like to twilight, the job of being a director, or like me and just was looking for something short and sweet to pass the time that you read this book.
4/5