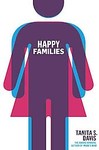 Happy Families
is not your usual family drama type novel. Up until recently Ysabel and her brother Justin have lived pretty perfect lives. Ysabel is artist working mostly in bead work at a place near her house called the Crucible. Justin is the academic, with a five year plan which he hopes will hopefully lead to Stanford He is also on the debate team which he is very good at. That is until one meet where he noticed his father, while giving his current argument....dressed like a woman,
After that, things only get worse. With some help from their grandparents the family realized that their dad is Transgender. Soon after the realization hits many things change. Their father moves out to a place on the other side of the state. Ysabel spends all her time at the Crucible to stay away from the family drama, and perfect her skills. Justin completely abandons his college plans, breaks up with a girlfriend he really likes for fear that when she finds out that she will hate him and pretty much tries to meld into the background. He does find a family members of transgender peoples support group online to help him understand.
The book after a brief prologue of how things once were, we find the twins getting ready for a trip to their dads to spend sometime with him after a long time separated. Neither are looking forward to their little vacation. Being that it is their spring break they would much rather do their own thing. Neither parent will budge though on the plan so they are stuck.
What the trip turns into is a week of therapy trips and events with other transgender folks and their families.. It seems daunting but maybe it will help...who knows?
I think book is a necessary read for many, because whether or not you have a parent or a sibling or anything who is transgender or you just want understand it better. It for sure helped me understand better what the transition is like as well as what emotions the one who is transgender goes through, as well as the people around them,
4 out of 5