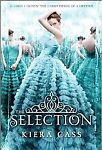 Lately I have been completely in love with d
ystopian novels! So, when I saw the The Selection I knew it was a book I must read!
America Singer is a 5. In this new america royals are back and the class system is done by numbers. 1 is the highest rank and is held by the royals themselves and 8 (or is it 7?) for those that are homeless. This new america was created by massive debt and being taken over by china, but thanks to one brave man who lead a new american army they get back what was rightfully theirs.
Decedents of this brave man are what has become the royal family. The son of the King and Queen, have decided it is time for him to marry. It will be done in an extravagant way with thousands of girls signing up but only 35 girls will be picked to be brought to the castle. Think of it as as a future and over the top version of the bachelor.
America does not wish to participate though as she is in a secret relationship with a 6 named Aspen. Since he is a 6 it would be very frowned upon if the relationship became public. Aspen, however, wanting her to have all the opportunities in the world breaks up with her. So, with no boyfriend and a family in need of funds that would be given to her family if she is chosen for as long as she stays in the running, decides to throw her hat in the ring. She is chosen and from there we see what the girls have to go through.
I'm purposely stopping here because I don't want to give too much away. The book was awesome and I can't wait for the new books to come out! I really felt for america and I love how she thinks not just about herself and winning the prince, but using her status to try and help those less fortunate.
5/5