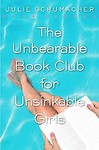 In the beginning of this novel we find A
drienne Haus, the main character of this story laid up after knee surgery. It's somewhere and shed rather be out an about, but between healing and her very best friend away for the summer, she is pretty much stuck. She decides to try and combat the boredom by working on the reading reading list assigned for the AP English class she is starting in the fall. So, whenever she can Adrienne's mother drives her to the pool and Adri sits and starts reading the first book on her list, Frankenstein. While working her way through it one day she runs into CeeCee pretty much in my opinion the snottiest person in the entire world, but I do admire her ability to ALWAYS speak her mind. There is also Jill who works at the snack bar of the pool and Wallis who is like a kid genius. On one of the days their talking they figure out that there all going to be in that same AP English class.
Later that day just to make conversation she tells her mom what her and the other girls discovered. In the interest of giving Adri something to do and have a bit of mother daughter bonding she decides to try to contact the other mothers about having a mother daughter book club. Well much to the girls distaste the group comes together. The title of this book is actually what they (behind the backs of their mothers) name the club. This book is not about just books tho they are mentioned and discussed its about the girls getting to know one another and breaking down the barriers of who each thought the others were.
I have mixed feelings about this book. CeeCee's general attitude went a little overboard many times, I understand what the other from the character but clearly; less is more. Also, the story between Adri and her mother and the wear-a-bouts and back story of her father goes nowhere in my opinion and is unnecessary. For these reasons I give this book
....
3/5